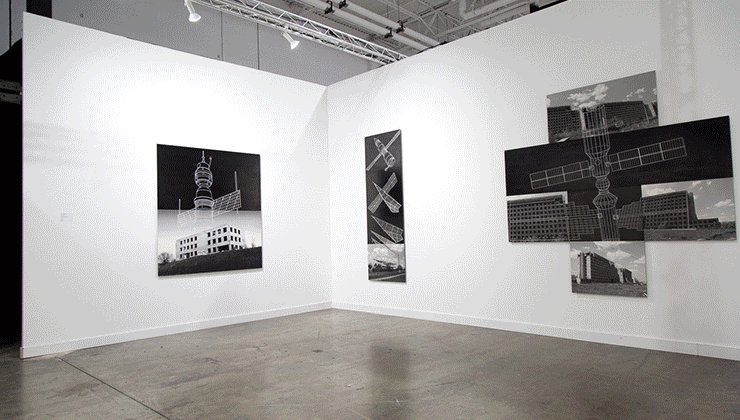 PINTA Miami 2018 Reports Record Attendance And Strong Sales
The 12th edition of PINTA Miami, the leading Latin American art fair with a global perspective, took place from December 5-9 during Miami Art Week. Across 100,000 square feet at the Mana Wynwood Convention Center, more than 300 works by artists represented by 83 galleries from 14 countries were exhibited.
PINTA Miami 2018 was attended by 42,000 people, an increase of 40% from 2017. This included several influential collectors, such as Tiki Atencio Demirdjian, Ella Fontanals-Cisneros, Tanya Brillembourg, Pilar Lladó, Juan Carlos Maldonado, Jorge Perez, and Anton Apostolatos. There were also representatives from the acquisition committees of museums, notably the Tate, Guggenheim, MALI and Museo del Barrio. Many international museums visited PINTA, including:
Boca Raton Museum of Art
Bronx Museum of the Arts
MAMBA Museum of Modern Art, Buenos Aires
Cornell Arts Museum,Delray Beach, Florida
Currier Museum of Art
Guggenheim Museum, New York
The Houston Museum of Fine Arts
ICA MIAMI, Miami
Lowe Art Museum, Miami
MALBA- Latin American Art , Museum of Buenos Aires
MALI- Lima Art Museum
McNay Art Museum
MOCA LA, Los Angeles
MOCA N Miami Beach
MOLAA, Long Beach, CA
Museo del Barrio, New York
Museo Nacional Centro de Arte Reina Sofia, Spain
Museum of Fine Arts Houston
National Gallery of Canada
New Museum, New York
Norton Museum of Palm Beach
PAMM- Perez Art Museum, Miami
Patricia and Phillip Frost Art Museum, Miami
TAMPA Museum of Art
TATE Modern, London
The Bass Museum of Art, Miami
Significant sales were made by the participating galleries. The Cisneros Fontanals Art Foundation purchased Modos de Calzar by Fernanda López from Factoría Santa Rosa gallery. 6mas1 sold a work by Los Bravú, Ponce+Robles a work by Aggtelek, Isabel Croxatto works by Andrea Sería and Andrea Braun, and Galeria NAC sold almost everything.

PINTA Miami also hadf a diverse program of special events, including performances by Camila Cañeque, Vicky Chow, Andreina Fuentes, Shanti Lalita, and Rolando Peña. There were also receptions held by the Argentinean, Brazilian, and Columbian Consulates, the latter of whom hosted a tribute to Celia Birbragher, Founder and Director of the magazine Art Nexus. An on-site installation honored Sofia Imber, legendary Venezuelan journalist, art critic and museum director.
ABOUT PINTA
Founded in New York in 2007, PINTA Miami is an international art fair focused on modern & contemporary Latin American art. Each year, the fair brings together a team of renowned curators, galleries, and artists from across the world. MoMa PS1 named PINTA as one of the most influential supporters of Latin American art. Diego Costa Peuser, Co-Founder and Director of PINTA, has been instrumental in promoting Latin American art in the United States, increasing the visibility of established, mid-career and emerging artists. www.pintamiami.com


FB: https://www.facebook.com/PintaArtFair/
Instagram: http://www.instagram.com/pintamiami/