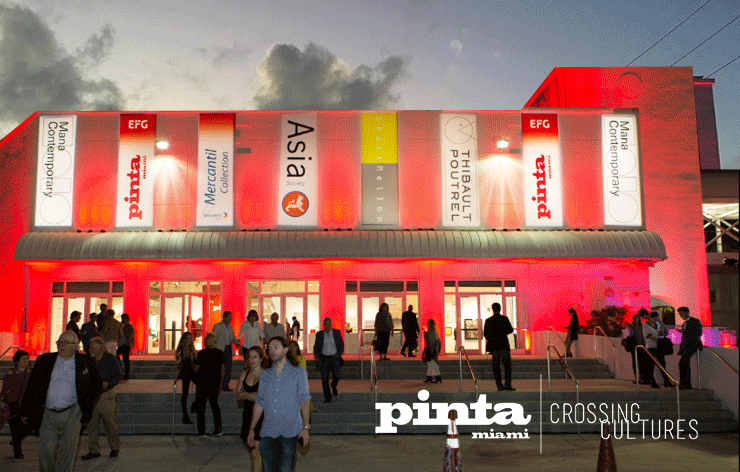 PINTA MIAMI is preparing for its 12th edition. After the continued success with sales and traffic on past editions, Pinta Countries Section is excited to bring abroad Spain and Portugal with the aim of strenghtening its Ibero-American character. The fair will take place at Mana Wynwood, located in the Miami Art District, on December 5th to the 9th.
PINTA MIAMI consolidates its Ibero-American focus with the presence of Spain and Portugal. Both countries join the Pinta Countries Section, with Yara Sonseca Mas in charge of curating Spain, and Susana Pomba of Portugal. Argentina, Brazil, Colombia, Mexico, Peru and Venezuela will also join the Pinta Countries section, and a curator from each country will be responsible for the selection of galleries and artists, offering the visitor the opportunity to discover new artistic proposals. Guided tours, conferences and exclusive events focused on these two countries, will be part of the launch program of this initiative.
In their Collections Program, PINTA MIAMI, is delighted to present for the first time in Miami, the Colección INELCOM Arte Contemporáneo, one of the most important Corporative Collections in Spain. The fair is organizing different events and private visits for the public to be able to enjoy the mesmerizing collection. For more information regarding the collection: www.coleccion-inelcom.com.
Pinta's Main Section consists of 60 galleries from Latin America, the United States and Europe, totaling over 300 artists works for exhibition. The Solo Project Section, curated by Jesús Fuenmayor, will continue to establish dialogues in the Americas. Another of the novelties of this edition, the Large Format Sculptures Section, curated by Ysabel Pinyol of Mana Contemporary, will present a wide panorama of relevant Ibero-American artists.
Among the special events of 2018 stand out the tribute to Celia Birbragher, Founder and Director of the magazine Art Nexus, for her work of more than forty years promoting Latin American art and the Program of Conferences, organized by Americas Society.
Pinta Miami's boutique art fair style, considered among the six best of Miami art week. Standing as a reference in Latin American art for more than a decade for collectors, professionals, museums and institutions around the world, the 2018 program will allow galleries to show their artists on the main section, however up and coming artists will get to showcase their raw talent in sections such as Pinta Countries, The Solo Project, or the unrestrained Large Format Sculptures Section. 2018 is a powerful mark to consolidate PINTA MIAMI as the Latin American Fair par excellence, while it emphasizes its global nature.

FB: https://www.facebook.com/PintaArtFair/
Twitter: http://twitter.com/PINTAMiami
Instagram: http://www.instagram.com/pintamiami/
More Information
www.pintamiami.com