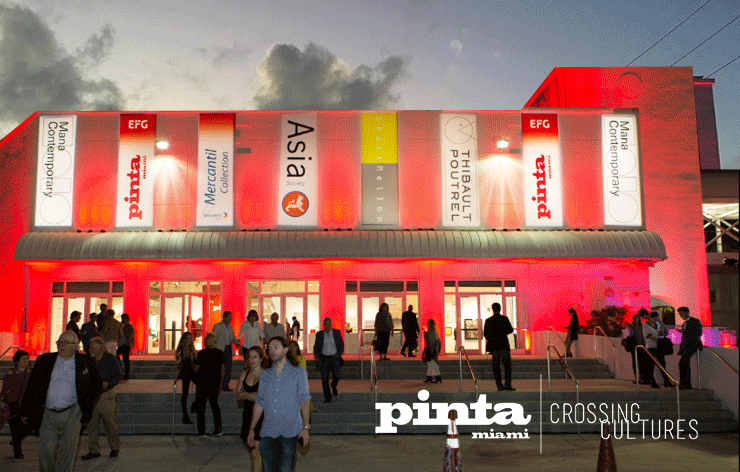 CALL FOR APPLICATIONS PINTA MIAMI – CROSSING CULTURES 2018
PINTA MIAMI – 5th – 9th December 2018.
Mana Wynwood Convention Center
Apply BY June 30th
PINTA Miami – Crossing Cultures, Miami's premier Ibero-American art fair is thrilled to announce its 12th edition and invites you to apply and participate in it. Its located in the epicenter of Miami's Art District in Mana Wynwood Convention Center, from December 5th - 9th.
Miami Art Week has been known to be one of the busiest of times of the year, and visitors have recognized the fair's quality in its exhibitions. This not only attracts more audiences – in 2017 alone we exceeded 30,000 people – but a collection of greater drive and sophistication. The fair also has an increasing percentage of consolidated sales in an environment of guided tours, and prestigious curatorial projects.
Originally founded in New York, in 2007, PINTA Miami is an international art fair focused on modern & contemporary art for Latin America, Spain and Portugal. In addition, the art fair has a mesmerizing team of renowned curators, which is reflected in the quality of works and exhibitors that the fair showcases. MoMa PS1 recognized this, and named the fair as one of the most influential in diffusing Latin American Art, and the fair has kept its prestige and quality because of the participating galleries, collections, curators and special projects.
PINTA Miami's main section will consist of 60 galleries, to which we invite to bring their Ibero-American artists as well as other works from all over the world. The fair also has PINTA Platform, curated by Roc Laseca, and it will bring visibility to exemplary contributions of modern and contemporary art in the format of cabinets, as well as other vanguard curations.
"PINTA Countries" has Argentina, Brazil, Colombia, Mexico, Peru, Portugal, Spain and Venezuela participating in modern proposals for each country. Each country will have its own section, and each section is curated by a top native curator from each country. This will create a revealing panorama of the artistic production of Millennial artists in Latin America and the Iberian Peninsula.
There is a section of big installations curated by Ysabel Pinyol from Mana Contemporary. Celia Birbragher, Founder and Director of Art Nexus Magazine, is to be celebrated at the fair for her 40 years of promoting Latin American Art through her editorial work.


FB: https://www.facebook.com/PintaArtFair/
Twitter: http://twitter.com/PINTAMiami
Instagram: http://www.instagram.com/pintamiami/
More info
info@pintamiami.com
www.pintamiami.com